Introduction
Table of Contents
Come September 2011, and it was time for another Onam holidays! I had an extended weekend of 4 days available since my company gave two holidays during Onam. Ever since my daughter started attending school, it was these long holidays when she could visit her maternal grandmother staying at Irinjalakkuda, Thrissur. It was a sunny Thursday morning and I was trying out a bit of programming at my wife's place. My wife suggested we should go somewhere (she hates seeing me making love to a laptop) and I was actually waiting for her to make that suggestion! I said, "let us start now! let us go somewhere" and everyone was ready within an hour. Lunch was already ready and my wife packed it in plantain leaves so that we can have lunch on the way. We started at 1PM from our home at Irinjalakkuda.
I knew that Chalakkudy – Valparai – Pollachi is a beautiful route along the western ghat forests and since Chalakkudy was only an hour from our place we decided to take this route for our random road trip. We hadn't done any planning on the itinerary or hadn't booked any hotel along the way.
We hoped we would reach Valparai before night and we would get a decent accommodation there. The uncertainty and the excitement exploring the unknown is what makes random road trips so irresistible!
We reached Chalakkudy around 1:20PM, thanks to the excellent roads including the newly built four lane national highway (NH47). I took money from SBI ATM (there are two ATMs in Chalakkudy city centre) and then filled the petrol tank from a nearby pump. This is very important since the next petrol pump is about 100KM away and you get very low mileage along the route (I got around 7kmpl!) due to very bad roads on the Kerala side. Also ensure that you have good stock of food and emergency medicines. I also carry a good torch and some essential toolkit such as a puncture kit for tubeless tires. If you get a breakdown along this route, it would definitely be a tortuous experience 🙂
These days I take along a blogging kit which includes Mac book pro, a voice recorder, Nikon D80 and Canon IXUS 120 cameras, pen & notebook. However one item that I missed throughout my trip was my Nikon binoculars. I have the iPhone mounted as a GPS device with Google maps. Google maps wasn't very useful for this trip.
Chalakkudy – Valparai Trip (Day 1)
By 1:30PM we were back on the road to Valparai. There are a number of interesting places along the road from Chalakkudy to Athirippilly waterfalls. Dream world water theme park and Silver storm water theme park are located on this road. Another interesting tourist place is the Thumburmuzhi (thumboormuzhi) river garden located about 16KM from Chalakkudy. This is a good place to spent time and has toilet facilities and children's park. It is also a good place for bird watching (the flying type!).
Our first destination was the famous Athirippilly waterfalls where we decided to have our lunch. There is a right turn just one kilometer before reaching Athirippilly waterfalls (immediately after a roadside beer parlor) and this side road goes up to the Chalakkudy river. There are a number of resorts around this place including Riverok resorts and I wouldn't recommend any of them.
We had our lunch on the banks of beautiful Chalakkudy river. It was slightly drizzling and was a nice touch to the magical beauty of Chalakudy river. The river here is flat and there isn't much depth and is a good place to have a nice bath. But we had miles to go and decided to try it in our next trip 🙂
We reached Athirippilly waterfalls around 3PM. There is a ticket counter just before reaching Athirippilly waterfalls. You need to take entry tickets for Athirippilly and Vazhachal waterfalls and parking tickets for your vehicle from here. We didn't take any tickets since we were headed to Pollachi.
The route from Athirippilly to Vazhachal is through the forest and somewhere in the middle is the beautiful Charpa falls. The water droplets from the falls will shower your face as you drive along the road. There is also a large population of monkeys around this place. The road is pretty good except for the last stretch before Vazhachal falls. We reached Vazhachal around 3:30PM.
Typically tourists visit only up to Vazhachal. Beyond Vazhachal, it is dense forest and you need to cross the Kerala forest check post. The check post is open from 6AM-6PM only. There is a lot of red tape at this check post just to keep track of the plastic bottles you are carrying. You also need to sign a register including the details of your journey. A guy from the forest department will inspect your car for recording number of water bottles and number of plastic covers. He will record them in a form and will give it to you. You need to show this at the exit check post near malakkappara.  If there is a discrepancy in the number of bottles etc. they will fine you a cool Rs. 1000 at Vazhachal check post. Perfect example of a "nanny state". My opinion is that the check post should always be open and they should let the vehicles as a convoy during night. Typically families are not harassed at the check post, but if you are in a bachelor party, expect a bit of hassle.
It was 4PM when we left Vazhachal. Just about a kilometer from the check post, you will come across the Vazhachal bridge which takes you to the other side of the river. From here onwards you can expect animal encounters. Around this place suddenly a large Sambar deer dashed across the road in front of our car. It was a shocking surprise and I even forgot about the camera! There are plenty of monkeys also along this road. Just keep your eyes and ears open when you take this road!
Since it was rainy season, the Chalakkudy river was as beautiful as it can get. The effective water head and volume seems perfectly suited for a hydro-electric project (sorry, couldn't resist a plug for Athirippilly power project :-)).
Around 5KM from check post (4:20PM) we came across a small junction and a tea shop. This is the last chance to have any food along this road for a couple of hours as the next tea shop is around 50KM from here. If you plan to visit Peringalkuthu dam, you need to take a deviation. We continued our journey towards Valparai and we came across the Peringalkuthu lake around 12KM from Vazhachal check post. It is a beautiful place and I wish I had taken my binoculars along with me. It was greenery all around and seems to be an excellent spot for bird watching.
After a brief stop, we left the place around 5PM towards Sholayar. When you travel along this route, it is possible to visit all the dams along the way. However ensure that you start early (6AM anyone? :-)) My plan was mainly to go through the entire route looking for animals and since we started in the afternoon, the dam visits were not feasible.
Around 15 kilometers (5:10PM) from the Vazhachal bridge was another bridge, which is very narrow even for a car. It is aptly named as "aanakkayam paalam (deadly water pit for elephants)" and I have no clue how interstate buses go through the bridge! Even a tiny slip from the driver will mean that all are in water! (see our return trip details below for a photo of the bridge).
Within a few kilometers from Aanakkayam bridge we came across fresh elephant dung. There was strong elephant smell in the air and it was clear that elephants had gone through the road possibly minutes before. After hundred meters or so we came across guys on a bike staring into the jungle and lo and behold! on the right side slope was a big group of elephants going on an eating competition. We stopped there hoping that we would get a clear photo of the group and all we got was an elephant tail 🙂 However some of the bikers were foolish enough to walk towards elephants to a get a clear photo shot!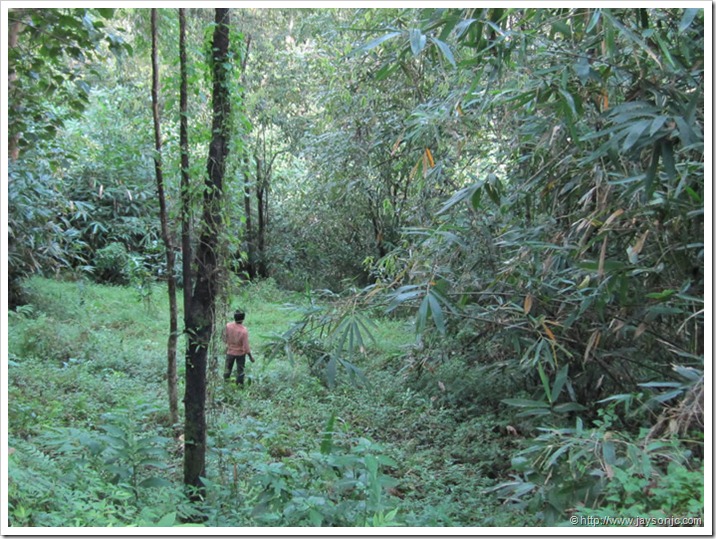 The road from here is through deep forests and there is nothing, let me repeat nothing on the way for around 30KM or so. The road is very bad along this stretch and it is suitable only for a 4×4 SUV (Kerala government, forest department and PWD is very good in keeping all the roads in very bad shape!) . If you are lucky, you will come across plenty of wild life especially elephants, monkeys, wild hen, etc. and for nature lovers, it is a heavenly experience! We came across at least two colonies of lion tailed monkeys.
By 6PM (Around 32KM from Vazhachal check post) we reached the Sholayar lake situated in Kerala. You get an entirely different experience from peringalkuthu lake since now you are at a vantage point giving you a bird's eye view of the entire area.
By the time we reached the exit Kerala check post at Malakkappara it was already dark. It was located around 52KM from Vazhachal check post and we crossed it around 7PM. Malakkappara is full of tea plantations and it is a treat to the eye. Tamilnadu check post in Malakkappara is located around 2KM from the Kerala check post. When we reached the check post, the guard there shouted at us – "family?" and I shouted back – "family!". He opened the check post and we were now in Tamilnadu.
There is a small tea shop located near this check post. We took a 10 minute break and had tea and some snacks. Far away I could see a lonely house among the tea plantations, the cold & gentle wind was blowing, I had a hot cup of tea in my hand and it was the just before getting completely dark. The whole experience is hard to describe.
By the time we left Malakkappara it was dark and we had no idea about the surroundings. We also lost our way immediately after Malakkappara, but was soon back on track. After a while I realized I was driving along the side of a lake. The road is narrow and the road shoulders in many places are dangerous and hence you should stick to the road as far as possible even if that means stopping your vehicle.
Staying in Valparai
It was 8PM when we reached Valparai. I had names of two decent hotels which I got from Internet, but we couldn't find it in Valparai (later it turned out they were located in Pollachi!). We stopped on the roadside in town centre and I was looking for other hotels via Google search on my mobile.  Suddenly a guy who saw us from his house balcony asked whether we are looking for accommodation and when we said yes he said he knows some good home stays. Within few minutes another guy came in auto and he took us to his home stay. It was located near the town, but the footpath to the place was nasty and there was no parking space. The rooms were clean and he offered two rooms for rent at the combined rate of Rs.1000 per day (which was a very good offer). I took his phone number and said I wanted to explore other options before taking the room.
When we came back we saw Hotel Green Hill on the main road. They had deluxe rooms available and we took it since it had parking space and a bar. The service and rooms were just ok.
For accommodation, you have 3 choices along the Valparai route. The cheapest is staying at a home stay and it appears almost everyone in Valparai is a home stay agent! I think you get a decent accommodation for 2 families at Rs. 1000! The advantage is that there is no need for advance booking. In the case of homestays it is probably safer to avoid advance booking!
The second option is to get into one of the hotels at the town centre. I think only Hotel Green Hill is the decent one in the town. It will cost around Rs. 1200 to Rs. 1400 for a family of 2. However room availability is not always guaranteed and hence you should preferably book well in advance.
The third option is to get into one of the tea-estate resorts. This is a costly option and will cost over Rs. 5000 per couple per night. Resorts also require prior booking. When we reached Valparai, I called up couple of them and they explained that they need at least 2 days notice to arrange accommodation/food. Most of these are located along Valparai-Pollachi road.
Valparai – Pollachi (Day 2) – Till Aliyar
We woke up pretty early and it was too early to have breakfast from Hotel Greenhill. So we decided to have it on the way and headed towards Pollachi. The idea was to explore the Anamalai Wildlife Sanctuary on the way and then return back from Aliyar. We wanted to reach Hotel Greenhill before lunch, check out from the hotel and then head to Chalakkudy.
Anamalai Wildlife Sanctuary is now known as Indira Gandhi Wildlife Sanctuary and National Park. The renamed sanctuary is almost 1000 sq.km in size and the place is rich in flora and fauna. The road from Valparai to Pollachi goes through it and if you are alert along your drive, you are sure to sight a lot of animals/birds. The road is well maintained by Tamilnadu government and there are 40 hairpin bends on this road.
The problem while driving from Valparai to Aliyar was that we wanted to stop everywhere. The early morning is the perfect time to be here. By 8:45, we came across breath taking views of tea plantations covered in early morning mist. There are also a number of small roadside waterfalls along this route.
The clouds were forming a tunnel on the distant hills visible from the road.
I had asked my wife to watch out for wildlife and she suddenly screamed asking me to stop the vehicle. On the left we saw a family of wild boars enjoying their breakfast. They glanced at us and after a while retreated back to the forest.
By 9AM we reached the 16th hairpin bend and we could now see the Aliyar lake in all its glory. By 9:30AM, we reached 27th hairpin and we spotted Nilgiri Tahr and monkeys on the road. By now we had covered 24KM from Valparai town.
We stopped near Aliyar town about 45 km from Valparai and about 20 kilometers from Pollachi.  When you drive from Valparai to Pollachi, the first petrol pump is located in Aliyar. There is also a small road side hotel and it was our only option for breakfast. It is usually crowded since all buses stop their for breakfast. We had a tasty and hot breakfast and after a brief break we headed back to Valparai at 9:35AM.
Pollachi (Aliyar) – Valparai (Day 2)
Aliyar is part of the plains and offers beautiful views of the Anamalai hill range. Trekking along those giant hills is one of my dreams 🙂 You should drive both ways since it offers different views and different driving experience!
I ended up stopping every few kilometers to take photos and boy, it is a photographer's paradise. Around 1KM from Aliyar petrol pump you will come across unexpected road bump. This is unexpected because this is the only one along the Aliyar-Chalakkudy stretch. So watch out!
Located 2 Kilometers from the road side tea shop and 6 kilometers from the petrol pump is the entrance check post for Anamalai Wildlife Sanctuary (it is not yet renamed to "Indira Gandhi" in many of the sign boards). Interestingly they charge entry fee of Rs.15 per person for no specific reason. They also charge fee for cameras. So stop here and take entry tickets and also tickets for your cameras. If you forget to take camera tickets, almost every forest staff along the way will ask for money to ignore the fact that you don't have a valid camera ticket. Interestingly it only applies if you are coming from Tamilnadu direction 🙂
About 2 Kilometers from the Aliyar check post, the Aliyar dam lake appears on the left side of the road. I think the lake side is a good place to have your packed breakfast if you are coming from Pollachi. There are some nice spots suitable for car parking.
Barely 4KM from the Aliyar check post is the Monkeyfalls waterfall. We reached Monkeyfalls around 10:45AM. The rush here is moderate and if you are coming early in the morning, it appears to be a good place for a bath. The waterfall was at its best since it was raining for a few days and I guess usually it is a thin stream.
There was a caretaker woman (forest staff) who was eagerly looking at our camera and after checking our tickets threw her arms in air and cried – "where is the ticket for camera ? ". It seemed she has been practicing that expression for years! So our options were either pay her some money or drive 10 kilometers to take a camera ticket. Obviously I did what you would do 🙂 And this was not the only time we were asked this about entry ticket. Another forest guard who was resting along the road saw me clicking and came running to see whether I have the "camera pass".
We only spend a few minutes here as I was getting impatient to get back to the forest stretch. The climb to Anamalai start around 2 Kilometers from Monkeyfalls and it is a heavenly drive along the road.
The climb starts with a hairpin bend and there are 40 hairpins to reach the mountain top. By the third hairpin bend you are at a height of 500m from sea level. All along the way you get different views of Tamilnadu plains and Aliyar lake. The 9th hairpin bend is known as Loam's view point. And watch out for wildlife – monkeys, wild boar and Nilgiri tahrs are plenty along the way!
By 11:10AM (around 12 kilometers from the Aliyar check post) we reached Attakatti check post. The guard here was chasing away monkeys. Apparently  they tried to pluck the fruits from the guava tree located nearby. lol!
By 11:25 we reached 27th hairpin bend (17 Kilometers from Aliyar check post) and it was a designated view point. There are plenty of Nilgiri Tahrs and monkeys roaming around this place. On a clear day, you get a bird's eye view of the entire Tamilnadu plains. A couple of people were relaxing here and a guard was also standing here. It appears that the forest guard told the people to move on. Apparently there is some kind of time limit here!
The waterfall estate resort is located around 1KM from the 27th hairpin bend. If you are looking for premium accommodation near the Anamalai hill range, check out their bungalows. There is a tea shop located adjacent to the estate with plenty of parking space. Nice place to have a cup of tea! The valley on the left of the road is known as tiger valley. It is estimated that around 4 tigers are present along the wildlife sanctuary (based on camera traps).
Suddenly out of nowhere appeared a group of small children selling small guava fruits. They were offering it at a price of Rs.1 per piece. We ended up buying the whole lot. After the tiger valley, suddenly forest magically transformed itself to beautiful tea plantations. It was drizzling and we spent a while here and it was a beautiful place no photographer can miss!
We reached the "Mist spreading zone" located at around 25KM from Aliyar check post around 11:40pm. Seeing the mist spread across the distant hills and tea plantations is always one of my favorite views.
By 11:55 we reached the last hairpin bend (40/40) and we had already covered 32 kilometers from Aliyar check post. There is a junction just ahead (Ayarpadi Junction) and you can take the straight road (right turn is towards Valparai) to reach Balaji temple located 7km from here.
The next junction is Rottikkadai and the road is through forest till you reach near Valparai. On the way you will find a number of signs announcing the presence of monkeys and specifically lion tailed monkeys! We reached Valparai junction around 12:15, covering 41 kilometers from the Aliyar check post.
We checked out from Hotel Greenhill (usual checkout time is noon) and then had lunch at the hotel. It was Thiruvonam and since much of the staff at the hotel were Malayalees, they had prepared Onam Sadya. It was delicious!
Valparai – Chalakkudy (Day 2)
We started from Hotel Green Hill around 1PM and stopped near a fruit stall just before the right turn in Valparai town towards Sholayar to buy some fruits. We continued our journey and around 3KM from Valparai we came across the Stanmore Woodbriar estate. It has a premium bungalow resort and seems to be a good place if you have plenty of money.  Take a left from here if you want to visit Kurangumudi (7km from junction). The road shoulders here are dangerous and have a depth of around 2 feet!
By 1:35 we were again back in forest and by that time we had covered around 6km from Valparai. The area around this place is known as the "Elephant zone" (9km from Valparai), but on this day we were unlucky.  After this zone, you again come across beautiful tea plantations. We spent a while admiring the beauty around us.
By 2PM we reached Sholayar dam lake and the view is breathtaking. The dam itself is located around 22KM from Valparai and just before you reach the dam, you need to take a right turn towards Chalakkudy. You will then cross the dam downstream just under a kilometer from the dam. We stopped at the bridge which gives a good view of the upper Sholayar dam (2:25PM – 23km from Valparai) and also the beautiful valley downstream. It would be an unforgettable experience if you could trek along the river path.
We reached Tamilnadu check post around 2:30PM located 25km from Valparai. This is a small tea estate based town and just after the check post there is a decent tea shop. There is also a good waterfall few meters before reaching the check post.
Once you cross the Malakkappara you suddenly realize you are back in Kerala since the roads are in very bad condition. The Kerala side check post at Malakkappara is located 2km from the Tamilnadu check post. We reached the Kerala check post at 2:40pm (27km from Valparai). All the red tape again. The guys checked the vehicle for plastic bottles and marked the count in a form (which I need to return at Vazhachal check post). They also write down your license number and ask irrelevant questions. I saw a couple of guys crossing over to Tamilnadu and one of them asked the guard about the check post closing time. The guy replied – "4pm". I found that strange since at Vazhachal the closing time is "6pm". So I asked the forest guard is it really "4pm?, at Vazhachal it is 6pm!" He was such a compulsive liar – he quickly replied – "yes, that is  because much of the forest is on the Vazhachal side".
I came out and there it was written in bold letters – "last entry – 6pm". There was a local old man standing nearby who overheard our conversation and he smiled and he said, it is actually "6pm".
By 3:45PM (20km from Malakkappara check post) we reached near lower Sholayar and we could see the Sholayar lake on the Kerala side from a vantage point. It was going to rain soon and the view cannot be captured in words or photos. Along the way around 23km from Malakkappara check post(4:05pm) we came across a giant tree. I thanked her personally for all the good work she is doing! I am not sure whether she enjoyed my hot kiss 🙂
We crossed Aanakkayam bridge (this is a very narrow bridge) at 4:40pm and by that time it was getting dark. We came across a couple of SUVs and cars going toward Valparai probably to spend their Onam holidays. Some of them realized after talking to me that there is no petrol pump and no hotels till Valparai but then they had already covered 20KM of potholes 🙂
By 5pm we reached the bottom Peringalkuthu lake and after a brief stop headed toward Chalakkudy. By 5:20pm we reached the tea shop located near the junction towards Peringalkuthu. There were a lot of vehicles and the tea shop was doing brisk business. We didn't stop here as we wanted to see whether we get anymore glimpses of wildlife before we reach Aathirappilly. However the only things we saw were a group of lion tailed monkeys and Indian giant squirrel.
Finally we reached Vazhachal check post at 5:40pm covering about 80km from Valparai. I returned the form and this time the forest guards were more sensible. They just asked whether I have bottles with me and then let me go. Since it was Thiruvonam, there was heavy rush at both Vazhachal and Aathirippilly.
We did stop at Charpa falls to photograph it and there were so many vehicles that it felt like driving in MG road! There were also people who were planning to go towards Valparai without realizing that the check post will close at 6pm.
By 7:30PM I was back at home in Irinjalakkuda after two days of non stop driving and photography.
Recommended Trip Itinerary
If you are planning to take a sight seeing trip from Chalakkudy to Pollachi ideally you need 4 days. The minimum you need is 2 days.
Day 1 : Start from Chalakkudy early in the morning (ensure you have full tank petrol) and reach Vazhachal check post by 6AM. Take a slow drive through Vazhachal, Sholayar, Malakkappara and reach Valparai by 7PM. You can take packed food along with you and you can also visit all the dams along the way. Spend time at Sholayar lake and Malakkappara estates. Check in to either Hotel Greenhill or a comfortable home stay in Valparai. If you are staying at Greenhill, try the black vodka on the rocks!
Day 2 : Start early morning from Valparai and roam around the places near Valparai.  You can take various roads in and around Valparai. You can also drive around exploring areas like Nirar dam and Chinna Kallar water falls. Please note that some of the areas require prior permission from forest department.
Day 3 : Drive to Pollachi via Aliyar dam. Drive slowly from Valparai to Aliyar and watch out for wildlife. Get down at Monkeyfalls for a bath and after a brief visit at Aliyar dam head to Pollachi. Stay in Pollachi.
Day 4: Plan an early drive from Pollachi to Valparai. Start early so you have a good chance of seeing animals. Reach Valparai by afternoon and after lunch and filling your petrol tank head back to Chalakkudy. Remember, you need to reach Malakkappara check post before 4pm.
There are other interesting places around Pollachi such as Topslip and Parambikulam wildlife sanctuary. Interestingly, even though Parambikulam is located in Kerala, the only way to reach there is via Tamilnadu!
Places to Visit (Chalakkudy to Pollachi)
Here is a checklist of places to visit when you plan your trip from Chalakkudy to Pollachi. This is in no way an exhaustive list! The best way to cover maximum places is to hire a local guide from Valparai.
| | |
| --- | --- |
| Places to Visit – Chalakkudy to Pollachi Trip | Approximate Distance from Chalakkudy (KM) |
| Dream World Water Theme Park | 10 |
| Thumburmuzhi River Garden (The other side is known as Ezhattumugam) | 17 |
| Silver Storm Water Theme Park | 20 |
| Athirappilly Water Falls | 30 |
| Charpa Water Falls | 33 |
| Vazhachal Water Falls | 35 |
| Peringalkuthu Reservoir | 40 |
| Sholayar Reservoir | 58 |
| Malakkappara | 73 |
| Sholayar Saddle Dam | 77 |
| Valparai Town | 98 |
| Nirar Dam | 107 |
| Balaji Temple | 114 |
| Chinnakallar Falls | 124 |
| Monkey Falls | 139 |
| Aliyar Dam | 143 |
| Pollachi | 167 |
Route Map
 
Distance Chart
The distance to various places mentioned in the article from Pollachi & Chalakkudy are given below. If you are coming from Pollachi, read the chart from below.
| | | | |
| --- | --- | --- | --- |
| Places of Interest | Distance from Chalakkudy (Kilometers) | Distance from Pollachi (Kilometers) | Comments |
| Chalakkudy Town | 0 | 178 | |
| Athirippilly Waterfalls | 32 | 146 | |
| Charpa Falls | 35 | 143 | |
| Vazhachal check post | 37 | 141 | |
| Vazhachal Bridge | 38 | 139 | |
| Peringalkuthu Tea Shop | 42 | 135 | Usually very crowded |
| Peringalkuthu Lake View | 49 | 128 | |
| Watch Tower | 50 | 126 | |
| Anakkayam Narrow Bridge | 53 | 123 | Dangerous! |
| Giant Tree | 66 | 116 | |
| Lower Sholayar Lake View | 69 | 113 | |
| Malakkappara Kerala Check Post | 89 | 93 | |
| Malakkappara Tamilnadu Check Post (Tea Shop) | 91 | 91 | |
| Sholayar Dam | 94 | 88 | |
| Upper Sholayar Lake | 97 | 85 | |
| Elephant Zone | 107 | 75 |   |
| Stanmore/Woodbriar estates | 113 | 69 | Detour to Kurangumudi |
| Valparai Town | 116 | 66 | Overnight stay |
| Detour to Balaji Temple | 125 | 57 |   |
| Mist Spreading Zone | 132 | 50 |   |
| Tea Plantations | 135 | 47 | Ideal for photography |
| View Point (27/40 bend) | 140 | 42 | Tiger valley and waterfall estates are nearby. Tea shop and parking facilities available. |
| Attakkatti check post | 145 | 37 |   |
| Hair Pin Bend (1 of 40) | 152 | 30 |   |
| Monkey Falls | 154 | 28 |   |
| Aliyar Check Post | 157 | 25 |   |
| Aliyar Tea Shop | 159 | 23 | Ideal for breakfast |
| Road Bump | 162 | 20 |   |
| Aliyar Petrol Pump | 163 | 19 |   |
Summary
If you are a nature lover or would love landscapes and wildlife, Chalakkudy-Pollachy road trip is a must do item. I think this route offers unmatched opportunity to watch wildlife in its natural setting in Kerala. An SUV is recommended for this route and if you do decide to take cars, a more sensible approach would be to go as a group of 2 or more cars.
Additional Reading
Here are some additional links with useful information if you are planning a road trip between Pollachi and Chalakkudy.
October 6, 2011 | Posted in
Travel Reviews
70 Comments »
| By Jayson
70 Comments to "Chalakkudy – Pollachi Road Trip (Via Athirippilly, Sholayar, Malakkappara, Valparai, Aliyar)"
Leave a Comment