Important Note: This article is a summary of my experience in 2017. Current details of the event/location may be different from what is mentioned in the article.
Introduction
Padmanabhapuram Palace
Padmanabhapuram Palace is an old wood Palace of Travancore kings located in Padmanabhapuram municipality of Kanyakumari district, Tamil Nadu. It is actually a palace complex consisting of 14 palace buildings and covers an area of 6.5 acres. The palace complex sits at the centre of Padmanabhapuram fort covering an approximate area of 186 acres. The palace is located at the foot of the Veli hills (Velimalai) and the river Valli (Valliyar) flows nearby. Even though Padmanabhapuram Palace is located in Tamil Nadu, the palace is under the administrative control of archeology department of Kerala government.
Padmanabhapuram Palace is an exceptional example of traditional Kerala building techniques and craftsmanship in wood work. It is the largest well preserved specimen of traditional Kerala architecture. It is also home to a large collection of excellent murals depicting Hindu mythology and secular themes. Due to its uniqueness and historical importance, Padmanabhapuram palace is added to the UNESCO's tentative list of world heritage sites.
Padmanabhapuram Palace complex consists of 14 primary structures. The major structures include Padippura (main gate leading to poomukham), Poomukham(reception hall), Plamootil Kottaram (living quarters), Veppinmoodu Kottaram(living quarters), Thai Kottaram(mother palace), Uttupura (kitchen and dining hall), Homappura (rituals and prayer hall), Uppirikka Malika (sacred palace), Ayudhappura (armory house), Chandravilasam(entertainment hall), Indravilasam(entertainment hall) , Navarathri Mandapam(dance hall), Lekshmi Vilasam (palace) and Thekke Kottaram (palace).
History of Padmanabhapuram Palace
Padmanabhapuram Palace was the citadel of Travancore (thiruvithamkoor) kingdom from AD 1550 to 1795. A mud fort was constructed around the palace sometime in 1600. Originally the palace was known as Kalkulam palace. In 1729, Marthanda Varma became the Travancore king and he rapidly extended his kingdom all the way up to Ernakulam. He also started construction activities across the state. Under his command, The Kalkulam mud fort was demolished and a granite fort was built. The Kalkulam Palace inside the fort was also rebuilt around 1750. Marthanda Varma dedicated his kingdom to Lord Vishnu (Padmanabha) and the Kalkulam palace was renamed to Padmanabhapuram Palace. In 1795, the capital of Travancore was shifted from here to Thiruvananthapuram.
Getting to Padmanabhapuram Palace
Padmanabhapuram Palace is located around 2KM from the Trivandrum-Kanyakumari National Highway (NH66) at Thuckalay town. It located around 50km from Trivandrum city, 12km from Nagercoil and around 35km from Kanyakumari town. The national highway along this stretch is one of the busiest in the country and traffic jams are common. If you are driving from Trivandrum, it may take up to 3 hours to reach Padmanabhapuram palace.
The nearest railway station is Eraniel which is located about 5km from the palace. You can take an auto from the railway station. Please note that not all trains stop at Eraniel and the next major station is at Nagercoil (12km). If you are driving from Trivandrum, check out the route map given below.
If you are driving from Trivandrum, you need to take a left from NH66 just before Thuckalay town. Direction board to the palace is on the main road, but it is easy to miss it. Drive along this road (MDR488) for about 1.5km and you will find a Bonsai Garden on the left. Immediately after the garden take a right turn. At the next junction you will have to pay the parking fee of Rs.50. Parking space is available on the northern side of the palace. After parking you need to walk around 100m to reach the entrance of the Padmanabhapuram Palace. Refer to the location map below for details.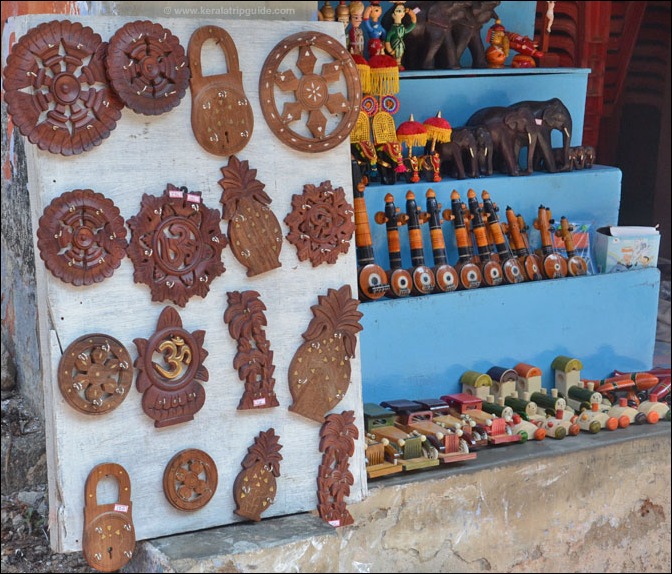 Padmanabhapuram Palace General Information
Location
Kalkulam village, Kalkulam Taluk, Kanyakumari District, Tamil Nadu, 629175
Area
6.5 Acres
Distance
50km from Trivandrum City
Nearest Railway Station
Eraniel
Nearest Bus Station
Thuckalay
Nearest Airport
Thiruvananthapuram
Timings
9AM – 4:30PM – Tuesday to Sunday
Holidays
Monday and National Holidays
Ticket Rates
Parking fee – Rs. 50
Indians – Adults: Rs.35, Children: Rs. 10
Foreigners – Adults: Rs.300, Children: Rs.100
Camera – Rs.50 (Rs. 2000 for professional video)
Padmanabhapuram Palace Visit
I visited Padmanabhapuram palace during my trip to Kanyakumari. Since it was a weekday, there wasn't much crowd in the palace. Weekends are usually very crowded and is not a good time to explore the palace. Padmanabhapuram Palace is a place you should explore in a leisurely pace.
We reached the palace around 10AM on a Wednesday and there was little crowd at the ticket counter. A detailed guide book on the palace is available at the ticket counter. Published by department of archeology, It is priced at Rs.100 and is available in various languages (Malayalam, English and Tamil). I recommend that you buy a copy of this book and refer to it as you walk around the palace.
A giant door (Padippura) leads to the palace complex. There is security check at this entrance and they check your tickets and your bags. The Kerala government officials on duty was helpful and courteous. The first major structure you see after entering the palace complex is the Poomukham (reception hall). There is an interesting hanging lamp known as Kuthira Vilakku at the center of the reception hall (see gallery) .
Archeology department employs a number of guides at the palace. They are located at all main structures in the palace. They are supposed to help tourists in understanding the palace structure and history. Since many local tourists come here on a picnic, they only interact if you show interest in knowing more. There are also detailed description boards displayed near all major attractions. There is a well defined walking path with direction boards across the palace and you just need to follow along to visit all places. I think it will take 3 to 4 hours to see the entire palace if you are interested in the items displayed inside. Hence the best time to visit the palace would be around 9am or 1pm.
As you walk around the huge palace, you get an idea how Travancore kings lived and the facilities they had in the palace. Some of the areas such as the prayer room and storage room is not accessible to the public. There are multiple buildings and most of them are connected by narrow tunnel like wood structures. The soothing lighting and excellent air circulation is a relaxing feature of the palace and it is cool inside even during the peak summer.
Some of the interesting attractions of the palace are,
Wood carvings on the ceiling – There are exquisite and detailed wood carvings at many areas of the palace.
Manimalika (Clock tower) – A working clock which is believed to be over 200 years old. The clock bell can be heard over a radius of 3km.
Uttupura (Dining hall) – A large dining hall which can accommodate up to 2000 people.
Mural Paintings – There are a number of 18th century mural paintings which depicts scenes from puranas and the lives of the people in Travancore state.
Navarathri Mandapam – Navarathri mandapam was built for cultural performances and consists of a large number of sculptured granite pillars.
The guest quarters of the palace is located on the rear of the palace and is built on the western architecture. Compared to the other palace structures, this building is very spacious. The southern side of this building opens to a large garden and the main road is visible from the north side.
You can see the mountains of the western ghats (Veli hills) from the palace. These mountains probably provided additional protection to palace in ancient times.
Padmanabhapuram Palace Archeological Museum
There is an archeological museum on the southwest corner of the palace constructed by the department of archeology. This was completed around 1993. It has a fairly decent collection of archeological findings from the southern part of Kerala. The collection consists of wooden sculptures, stone structures, ancient coins, ancient weapons and copies of mural paintings. There are also some exhibits from the Indus Valley excavation. A scary exhibit here is the iron cage used to lock up criminals in the Travancore state (see gallery). These cages were hung on trees and the victims had a slow death due to starvation and vultures.
Summary
Padmanabhapuram Palace is an excellent destination to spend half a day exploring the history of Travancore state and the brilliant work of top craftsmen at that time.
Additional Online Resources
January 15, 2017 | Posted in
Travel Reviews
No Comments »
| By Jayson
Leave a Comment